GIANT KILLER GUARANTEE!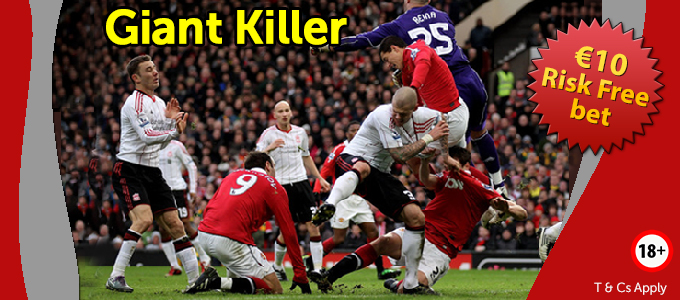 The 3rd round of the English FA Cup is one of the most anticipated dates in any football fans calendar. All the Premier League and Championship teams are added into the competition and many times they are drawn against minnows whom are not given any chance of victory. And then the magic happens.

We love a good Cinderella story here at RedKings so we are giving all our players a Giant Killer Guarantee.

We will give you a 10 Euro Risk Free Bet on any minnow that you think can be a Giant Killer.

So go ahead and place a 10 Euro bet on your chosen Giant slayer from the below matches. If your bet loses, we will return the stake back to your account as a bonus.

Note! In order to qualify for this Risk Free Bet you need to wager at least 20 Euro on any other FA Cup 3rd round games.
1. Fleetwood Town to beat Leicester
2. Derby to beat Manchester United
3. Wigan to beat Bournemouth
4. Exeter to beat West Brom
5. Bolton to beat Huddersfield
6. Coventry to beat Stoke
7. Luton to beat Newcastle
8. Shrewsbury to beat West Ham
9. AFC Wimbledon to beat Tottenham
Note! The risk free bet applies only on betting type 1X2
This promotion is available only for the FA Cup 3rd round matches between Fri 5 – Mon 8 January. It does not apply on replays.
In order to be eligible for the Risk Free Bet, you need to make wagers in the amount of 20 Euro or more on any FA Cup 3rd Round matches during the above time period AND place a 10 Euro bet on any of the minnows mentioned in the list on the page.
Only real money bets apply for this promotion
There is only 1 Free Bet given which will be for the first bet you make on any of the minnows mentioned above where the bet is a minimum of 10 Euro or currency equivalent.
Only fully settled bets (ie bets that result in a win or loss) will count towards wagering.
If you lose from your Risk Free Bet, the 10 Euro will be given back as a bonus to your bonus balance that needs to be wagered just once with odds 1.01 or over within 15 days.
There is only one bonus/refund per person/household/IPaddress allowed within the network.
Any abuse of the offer will lead to the closure of account and no refund of the deposit.
We reserve the right to stop any withdrawal attempt if any kind of abuse is found.
BetRedKings accepts no responsibility for losses incurred through use of the Bonus.
Our bonuses are intended for recreational players only and BetRedKings may in our sole discretion limit the eligibility of customers to participate in any promotion.
BetRedKings reserves the right to change the terms and conditions of this promotion at any time and it is your responsibility to periodically check here for changes and updates.
BetRedKings reserves the right to limit the eligibility of a customer to participate in a promotion or exclude players from a promotion for any reason, or to withdraw an offer at any time. No correspondence will be entered into.
This offer is excluded from the following countries: Moldova,United Kingdom,Germany,Ukraine,Belarus,Slovenia, Australia, Hungary
Standard Terms & Conditions Apply